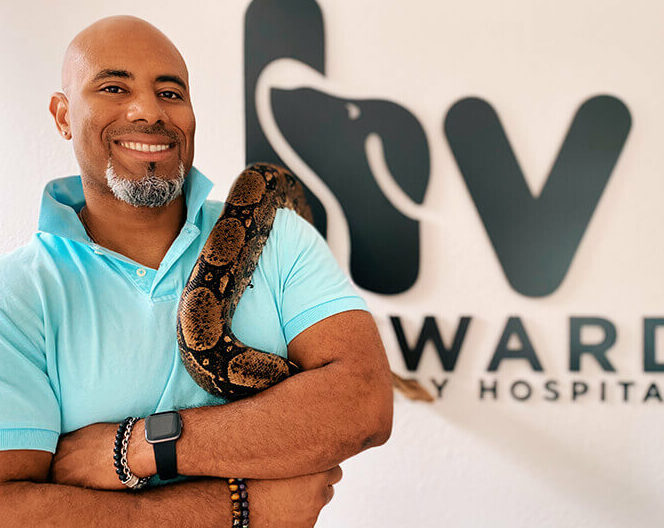 Hi! I am a Bay Area native, born and raised in San Jose, CA. My childhood was saturated with athletic events, Disney channel programs, family gatherings, and countless creek playtime hours catching whatever critters I could find. I received ample life skills and career goals guidance from countless hours of Discovery and Animal Planet TV shows. To say I watched a lot of wildlife programs would definitely be an understatement.
I attended Tuskegee University following high school graduation where I was an Animal & Poultry Science major and 4-year scholar-athlete. I gained a great appreciation for Southern traditions and hospitality while forming some lifelong friendships.
After completing my undergraduate program, I joined Duke University for a Tropical Field Biology program in Costa Rica for summer 2007. There I had an opportunity to touch up on the Spanish language and my salsa dancing as well. The following Fall I enrolled in Tuskegee University School of Veterinary Medicine and completed my Doctorate in May 2011.
Everyone comes back home at some point and for me this saying held true. I returned to the Bay Area in 2011 and worked in various capacities as an associate DVM for Banfield the Pet Hospital, VCA Animal Hospitals, and various private practitioner clinics throughout California. I have a keen interest in reptiles and amphibians mainly because they are just plain cool to work with, but I am passionate about exotic pets as a whole. The majority of my 10 years of experience is as a general practitioner.
When not in the clinic, I can be found horseback riding, fishing, biking, local Jiu Jitsu gyms, Capoeira events, softball tournaments, pretty much anywhere that gets me out of the house. I enjoy camping and hiking with my family which includes Brittany, my partner of 6 years, our daughter Mila, son Keilan, two dogs (Maya and Tahoe Blue), Marshall the cat-dog, Banana Bruce the Ball Python (whom I was meant to foster) and Eduardo the Boa constrictor. Don't worry, Eduardo and Bruce usually don't get to come camping.
Building a hospital from scratch to becoming a cornerstone of the community has been a lifelong dream for my family and I. This dream has come with more than its fair share of hurdles and roadblocks throughout the years but as my father used to say "Nothing worthwhile ever comes easy." We are elated to be opening our doors, arms, and hearts to the Hayward community as we embark on this new and exciting adventure. Brittany and I are thrilled to be a part of your story in any way we can. Come on down to Hayward Veterinary Hospital and see how amazing that story can be!